University Design Transformation

At the Arts University Bournemouth (AUB), WPL had a great opportunity to work alongside Design Engine Architects to install perforated panel cladding.
The final effect at AUB produces a unique façade emulated across two of the main teaching buildings and more of the same across the campus. The team had bounds of artistic licence, where our more usual symmetry was set aside in favour of this totally random installation with perforations of differing positions and diameter.
Because the perforated panels have a visually open area the existing unsightly brick façade that had been painted black is present behind the silver metallic façade and offers a very attractive contrast in colours.
The façade also doubles up as a solar shading system for the areas of glazing to reduce solar gain into the building whilst maintaining the optimal amount of natural light into the building. The benefits also extend to the reduction of energy used to maintain ideal room temperatures which in turn is more environmentally friendly.
Perforated circles are a popular choice for architects specifying perforated panels but what differs in the AUB pattern is the unique arrangement of varying hole sizes.
The building is rectangular as is the existing brick façade so the circles create distinction against what was previously quite a dull looking building.
WPL's perforated panel cladding is used as a decorative façade at AUB which gave the building a new lease of life but this type of cladding is a very versatile product. It is used in a large array of applications from architectural feature facades right through to cladding that needs to meet high technical performance specifications like for example sound or weather proof barriers.
The before and after images of the two buildings are exceptionally striking: WPLUK – AUB Halls, Perforated Rainscreen Panels – Before and After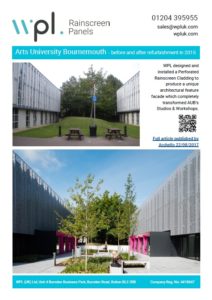 © WPL (UK) Ltd 2023

All rights reserved. Company registration number: 04418647

Our Website uses cookies to improve your experience. Please visit our